It's been a long time since the earlier blog,
so I thought it's time to pour some shit on you again.
Where to start?
The beginning of 2007 was busy time in the Fokker-camp.
Recording, singing, playing, producing, mixing, mastering,
making album covers, shooting insane photos,
rehearsing for the gigs +misc. promoting…
OK, it would be easier if you didn't try to do everything by yourself,
but now you can be 100% behind that little package you've pushed out.
Sure it's nice to read good reviews 'bout your love child
and from the other side it really sucks when some bored/bitter journalist
from nation wide "music"-mag writes 2 lines and says that it's from arse.
Looks like we've reached our goal in what comes to shaking people.
There are lots of guys who have patience to listen to the album for a couple of times before
giving up and many times those guys have founded something interesting
and sure there are people who don't get even near the point.
"Is this band somekind of an inside joke?
Those guys should concentrate more on styling…"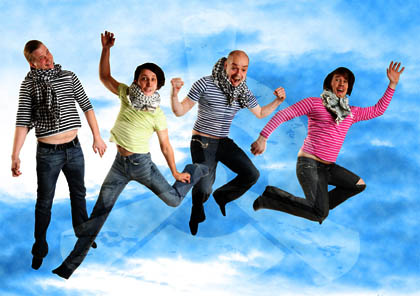 We're serious as hell with styling!
What the fokk is a band that doesn't want to look more beautiful than
their girlfriends? (IMHO: it's a hetero band, but no one asks from me anyway)
Album was finally released 21.3. as planned, but only problem was
it's availability. It was only in a couple of shops in Helsinki so there we were again.
In the end that just meant good for Ekku's webshop though, so it wasn't such a bad thing after all.
The album release party was great anyway
and to our surprise there were lots of Fokkheads present.
Nitrokiss played a good gig as they are used to playing lately and
the headliner, Die So Fluid, was great too and the singer/bass-player Grog hmmm….
DELICIOUS.
Scapegoat live at album release parties 21.3.2007
Next gig was at Oranssi/Helsinki with Nitrokiss & Edward.
That was our first underage gig and I think we were in a wrong place.
All those drunken young ladies seemed to be after a bit prettier
rockers. Edward & Nitrokiss really answered to their needs, but
of course there were a couple of epileptic ladies dancing to "Never Change".
Thank you and maybe next time there will be 4 Fokkheads.
Backstage "parties" at Oranssi 23.3.2007
Those were the times.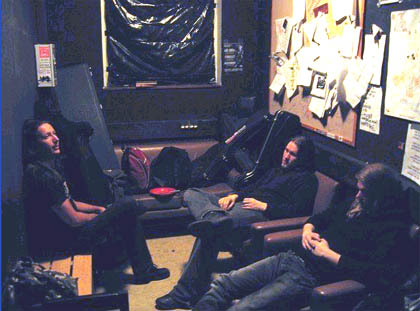 Our second underage gig was with Bloodpit & Nitrokiss and surprise,
there were lots of young ladies in the audience again. A typical Fokker fan in Finland
seems to be a hairy male and there was none of them present. Maybe a couple of males,
but good smelling and not hairy. Anyway the gig was great.
Thank you Klubi. Great crew, stage, backstage, lights, sound & audience.
Lots of little asses shaking to our fokking.
Lauri diving to Pasi (Tampere 1.4.2007)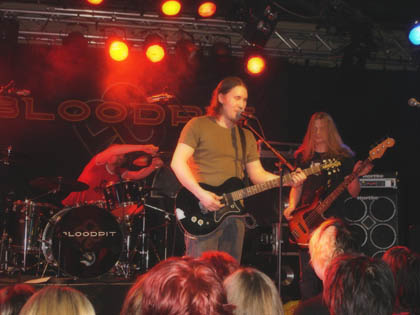 You can forget your bag to backstage,
but there are certain things that go with you…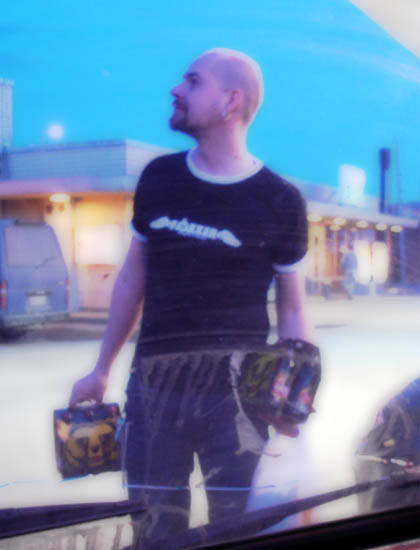 Next was Henry's pub in Kuopio with Steal Away & D'airot (RUS).
It was Wednesday and the house was almost full.
And so were Fokkers after the gig. Funny time with "Stealers".
"A couple" of KARHUs + some Vodka & Jaloviina.
The gig was really funny 'cause there were some older male "natives" and
we had some really intelligent conversations between songs.
Like:
natives: "God damn how ugly you are…"
Markku: "You haven't got so beautiful friends either."
Next song.
natives: "The singer is oh so handsome."
Antti: "It looks like Markku's gonna have some company tonight!"
Next song…
natives: "This band is ugly as a train's toilet(?!), but music works,
so let's let hippies play 'cause it looks like these hippies can!"
Thank you. 🙂
Somehow those getlemen slipped away before we had a chance to thank
for that funny shit.
After gig relaxation part665 (4.4.2007 Kuopio)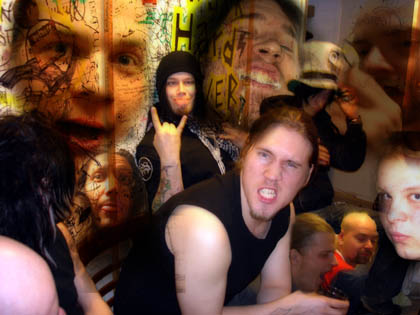 Last gig this far was at Torvi, la egendary rock'n'roll restaurant in Lahti
with Steal away & D'airot.
Somehow the place wasn't full this time, but we played one of the best Fokker
gigs and sold some records & shirts too. Maybe we've been too lucky in
Lahti before. Nice evening with some playing +drinking & chatting with friends.
Founded a couple of new "die hard" Fokker fans which is always nice. 🙂
Sad thing was that "Stealers" had to go back home right after their show.
You don't have to guess who had to drink all the beer…
Lahti/Torvi 5.4.2007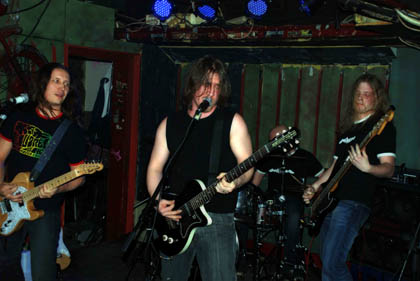 Lauri relaxing at backstage of Torvi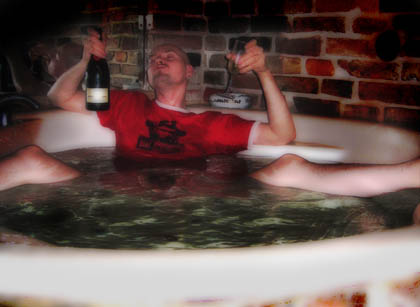 "Tour" is done and it's time to continue promoting the album and
waiting for some more sad reviews.
There is more gigs coming for summer and I personally can't wait
for those. Been writing a couple of new songs and if we'll beat our
lazy asses, some of those may be heard at gigs this year.
***Please***
If you know any great (internet/regular)radio-stations or magazines
that play/review unknown/indie bands, let us know.
We would really appreciate that kind of information.
Come to gigs, buy records (maybe Fokker too), leave some comments
& remember to behave.
Yours,
-Fokkers-
Tired, meditating TeleFokkers